AnyRidge Internal Clinical Case – Courtesy of Dr. Kwang Bum Park

Fig 1. This 52 year-old male patient lost his maxillary left first molar due to periodontitis during implant treatment for other teeth. The panoramic radiograph was taken about one month after extraction, and a large extraction socket defect was expected. On the clinical examination, the interarch space for future crowns was very limited due to large tuberosity, so it was planned to remove bone and soft tissue from this sites (red line on panoramic view). The remaining vertical height was about 7~8 mm under the sinus floor.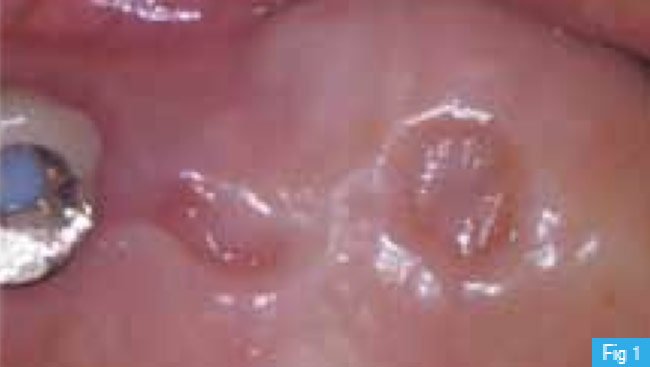 Fig 2. Two parallel incision lines were made on the crest expecting the soft tissue amount after reducing the crestal dimension. There was no buccal plate remaining on the extraction socket of the first molar area.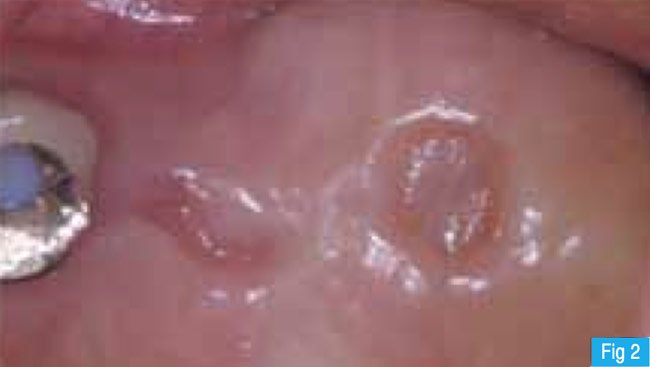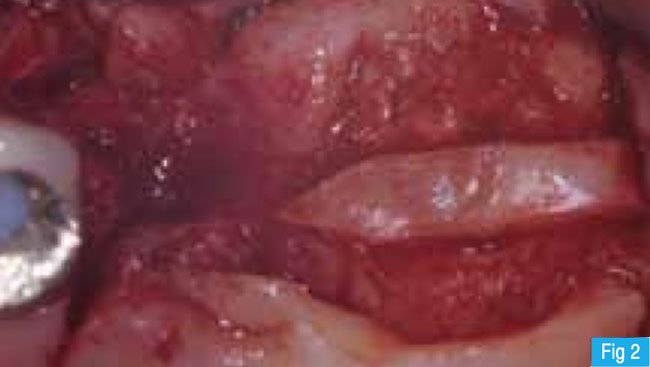 Fig 3. During the procedure to make an ideal shape of alveolar ridge, all the cortical bone was removed from the crest.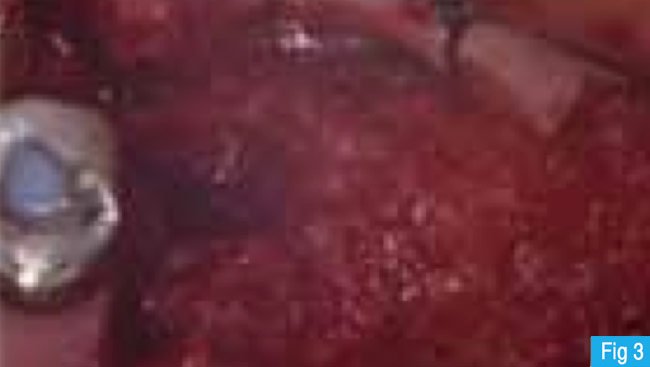 Fig 4. Now the ridge has normal shape and inter-arch distance was recovered enough to make ideal contour of crowns. However, the bone density was extremely soft without any cortical bone. It was much less than Type IV bone density. At the case of like this, how long do we have to wait after implant placement to start the prosthetic procedures? Normally we wait for at least 6 months for Type IV bone with conventional implant system because we cannot get enough initial stability due to less bone density. However if we can make excellent initial stability with mandibular implants by changing implant design, we may start prosthetic procedures after 3 months or less. That is one of important design concepts on AnyRidge implant system.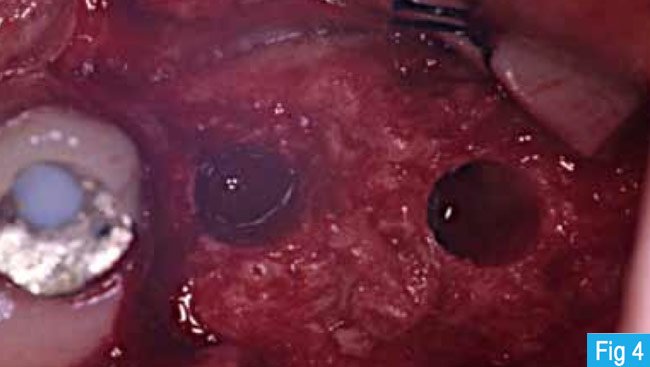 Fig 5. Two osteotomy sockets were prepared with a single trial of drilling using a trephine (4050 which has 5.0mm outer diameter). Bone density was extremely soft as expected, and there was enough ridge width both to buccal and lingual side. If we place fixtures with conventional thread design, satisfactory initial stability is really difficult to achieve due to loose bone density. AnyRidge implant was designed to have same core diameter, but different thread depth with increase of fixture diameter. So in the case like this, we needed to consider the bone density uring socket preparation to choose ad- equate depth of thread which could affect initial stability.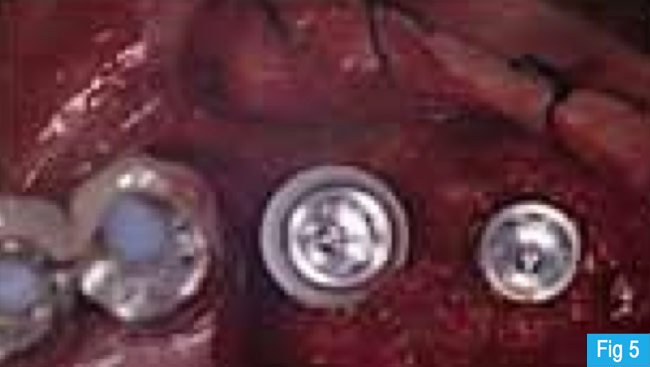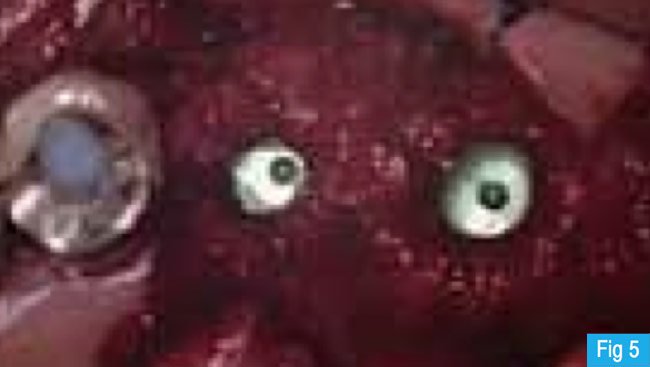 Fig 6. Two 7.0(W)x8.5(L)mm AnyRidge fixtures were placed with excellent initial sta- bility because of deep and knife threads. Compared with the size of osteotomy sockets, the fixtures were 2mm bigger in diameter, but the core diameter of these wide fixtures are only 4.8mm. The whole depth of thread could be used to engage bone to get more BIC and better initial stability.
Fig 7. The bone defect was grafted with autogenous bone which was harvested during reshaping of alveolar ridge and trephination. And primary closure was made to make sure bone regeneration.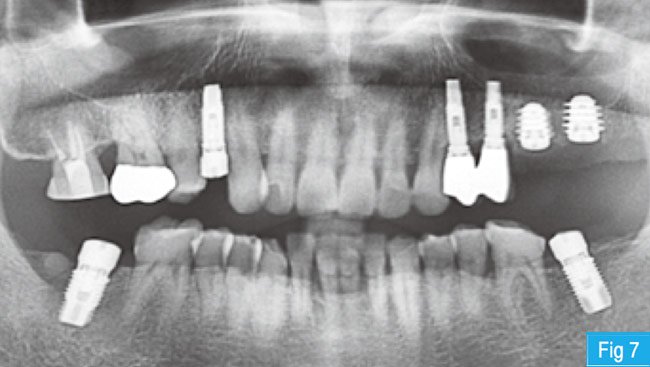 Fig 8. The panoramic view after surgery.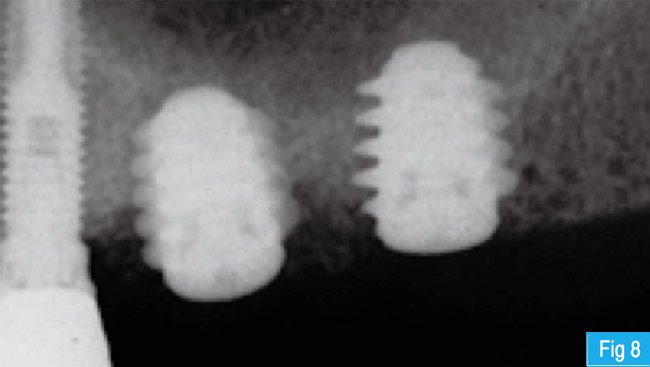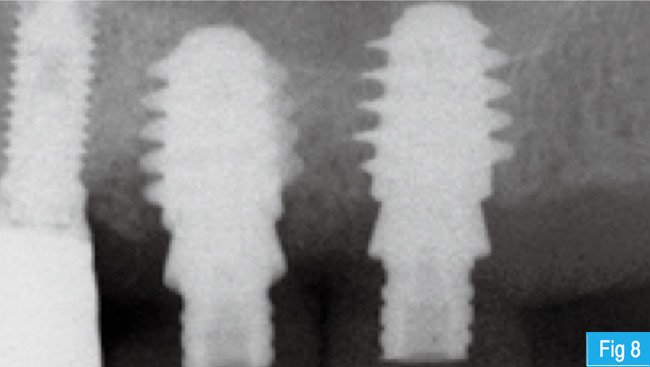 Fig 9. Three months after implant placement, the second stage surgery was made and provisional restoration was delivered two weeks later. The final restoration was delivered about one month later for the maturation of regenerated bone. On the radiograph taken 2.5 years later, the crestal bone regenerated up to the level of platform.