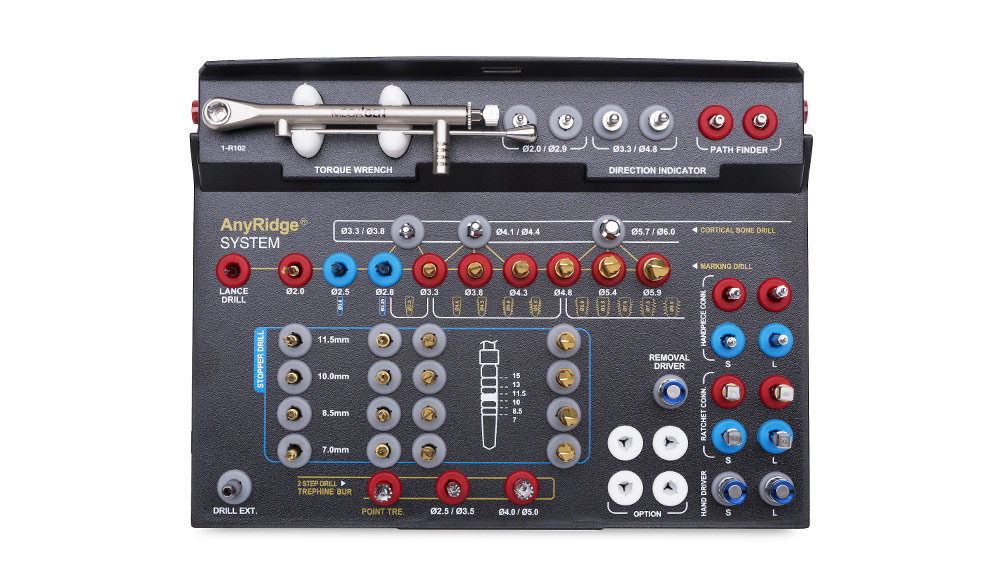 Lance Drill
• Useful to make an indentation on cortical bone to confirm the exact drilling location.
• Advisable to go into the bone to the full length of a fixture.
Marking Drill
• Each drill has calibrations from 7.0 to 18.0mm.
(TANSDF4815, TANSDF5415, TANSDF5915 have calibrations up to 15.0mm)
• Easy to recognize by dual marking systems.(Groove and laser marking)
Cortical Drill
• Removes cortical bone and enlarges osteotomy socket especially at hard bone.
• Similar function with countersink drill of other systems.
• Eachdrillhastwostepsofdiameterforconvenience.
Stopper Drill 2.0

Stopper Drill 2.8

Stopper Drill 3.3

Stopper Drill 4.8

Drill Extension
• Extends drills & other handpiece tools.
• No more than 35Ncm torque : Can be distorted when too much force is applied.
Point Trephine Bur

Point Trephine Bur

Trephine Bur
• Minimizes the drilling steps needed, especially for wider fixtures.
• Helpful for collecting autogenous bone.
• Useful for removing failed and fractured fixtures.
• Depth markings are 7, 8.5, 10, 11.5, 13mm, same depths as fixtures.

(No Y dimension so markings are actual length).
• Markings on the drill shaft represent the inside / outside diameter of Trephine Burs.

Abutment Removal Driver
• Usedtoremovefinalabutment;useafterremoving Abutment Screw.
• Insertstraightintotheabutmentandrotateclockwise.
• LongAbutmentRemovalDriverisfordisconnecting
Handpiece Connector
• Delivers torque for the placement of a fixture with a handpiece.
• Easy and secure pick-up and delivery.
• Used to place an implant without a mount.
• Marks on the shaft can indicate the position of
fixture platform, especially in flapless surgery.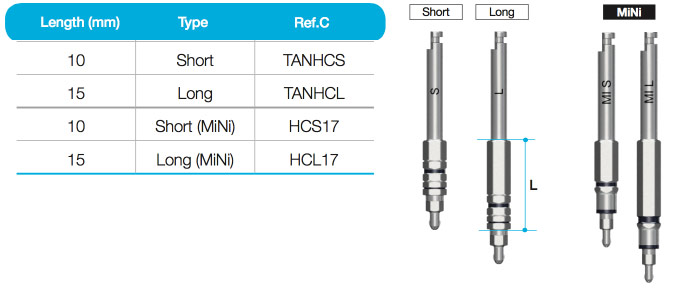 Ratchet Connector
• Delivers torque for the placement or removal of a fixture with a Ratchet Wrench.
• Secure a Ratchet Extension or Torque Wrench to a fixture before exerting force.
• Toomuchtorqueforcecanresultadamagetothehex of a fixture.
• Marks on the shaft can indicate the position of fixture platform, especially for flapless surgery.
Hand Driver (1.2 Hex)
• Used for all Cover Screws, all Abutment Screws and all Healing Abutments.
• Available in 4 lengths for convenience.
• Hand Driver can be directly inserted into the Torque Wrench without using an adapter.
• Hex tip can withstand 35-45Ncm of torque without distortion.

Direction Indicator
• Confirmsdrillingdirectionandlocationduringdrilling.
• Checks drilling position.

Path Finder
• After placing a fixture, a Path Finder can be con- nected to guide parallel for the next implant.
• Gingival depth can be measured with the grooves especially for flapless surgeries.