Megagen Implant Co.'s  7th annual International Symposium was held on the 17th October 2010 at the Grand Intercontinental Hotel in Seoul. Around 500 doctors participated in the event including over 100 from outside of Korea.
The main theme of the symposium was Minimally Invasive Surgery & Aesthetics in Implant treatment and the quality of the presentations was high. During the two days preceding the Symposium, workshops were held which gave a closer look at the subjects presented during the main meeting. Attendees had the opportunity to question the speakers in a classroom setting which led to interesting discussions and debate. This format made for a more complete learning experience for those attending the symposium.
In addition to the presentations focusing on minimally invasive therapy & aesthetics, there were a couple of lectures which touch subjects affecting implant surgery from an overall perspective.
From the Harvard School of Dental Medicine, USA,  Dr Nadim Karimbux focused on the link between oral health & systemic health – and the importance of this knowledge for surgeons working with dental implants.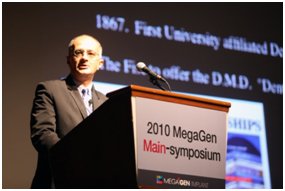 Dr Dennis Smiler, from California in the USA presented an interesting and innovative way to improve the success of bone grafting procedures, using autogenous stem cells. The technique was presented as a simple procedure that could improve the speed of healing in both bone grafting & general implant surgery.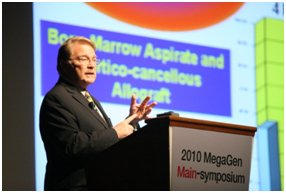 Dr Jong Cheol Kim, Dr Thomas Han and Dr Kwang Hyo Kim all made presentations that looked at different aspects of how to improve the aesthetics with implant surgery.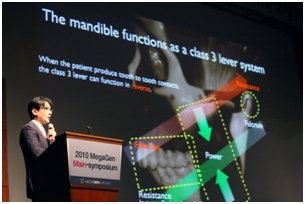 Dr Jong Cheol Kim (Chonnam University, Korea; MINEC) emphasized the importance of a "top-down" approach to all implant surgery to improve the long lasting success of the operation. He showed case studies that demonstrated his point in creating long term aesthetic results using carefully established holistic diagnosis of the patient's oral situation. This can lead to a more complete treatment plan & longer lasting results.
Dr Thomas Han (UCLA Dept of Periodontics, USA) also addressed the importance of the correct approach to diagnosis prior to surgery. He presented "nightmare" cases and anti-aesthetic results to demonstrate his point. The lecture pointed to the importance of a correct evaluation of both the soft & the hard tissue in the implant site and the steps to be used in the planning of surgical strategy in order to obtain excellent aesthetic results.
Dr Kwang Hyo Kim (Daegu,Korea;  MINEC) gave much attention to the formation of a harmonious gingival line to create pleasing aesthetic result with implant surgery. He addressed the elements to consider with various biotypes and how to resolve difficult thin biotype cases in order to maintain gingival aesthetics.
The remaining presenters spoke about many different aspects of obtaining a minimally invasive approach to surgery. The advantages this approach can bring to the patient and how it will facilitate patient care for the surgeons.
In the morning session Dr Michele Jacotti (Brescia, Italy) demonstrated a new technique of constructing dehydrated bone grafts. Using CT to obtain a clear picture of the patient's mouth, bone grafts can be modelled to the exactly required shape in advance of surgery. The technique drastically reduces the time of surgery, gives a more precise fit of bone (due to modelling being done in a non-surgical phase without the limits to visibility found in surgery ie blood, flaps & space confinements).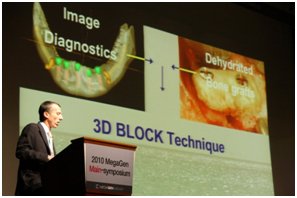 Dr Samuel Lee (Los Angeles, USA) presented a new approach to lateral  sinus lift. He showed some cases showing the advantages of his now well known approach to crestal sinus lift, which served to introduce the need for a lateral approach in some cases. Once again Dr Lee has found a method to make sinus lift surgery a less formidable operation for the patient, improving healing times & creating less collateral damage (bruising, swelling etc).
Dr Pietro Felice (University of Bologna, Italy) gave an excellent and complete picture of changes to surgical approach – with particular emphasis on the edentulous posterior. Dr Felice presented extensive clinical research on multiple areas focusing on the comparison of two different techniques and their different outcomes. This presentation was particularly interesting with regards to the use of short implants and the success of this technique.
Dr Kwang Bum Park (Daegu, Korea; MINEC – & CEO of Megagen Implant) presented a brand new implant concept. The new AnyRidge implant offers a minimally invasive approach to placement, speedy osteointegration and a macroshape that will offer stability both short & long term. The ideas and the reasoning that led to the development of the implant were discussed and Dr Park invited all attendees to give us their feedback. The AnyRidge implant is already available in Korea, but will not be launched internationally until some time during 2011.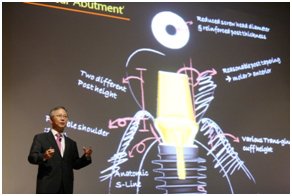 The Symposium was well attended throughout the day and ended with Dr Kwang Bum Park inviting all the Italians present onto the stage to extend their welcome to the next annual Symposium, which will be held in Milan, Italy.
A note from Dr Kwang Bum Park, CEO of Megagen Implant Co.
"I would like to express my gratitude to all of those who attended the Megagen 2010 Symposium, especially to Dental College Professors, directors of dental clinics both from Korea and abroad, and to all our supporters who have given their assistance to Megagen materially & morally.
Eight years have already passed since we first started trying to make the world's best implants based on our ideas & our technical expertise. Over the course of those eight years, Megagen Implant has grown into a recognized innovator in dental implants and has improved its position worldwide. We now export to over 40 countries, evidenced by the number of international visitors to our symposium this year. We have won a series of awards and prizes over the past few years for our technical developments and achievements. Every success that we achieve, we remain always conscious that without the keen encouragement, comments and support from you the dentists, none of this would have been possible. We at Megagen Implant will continue to work hard to ensure that people all over the world will be able to enjoy healthy teeth and a happy smile.
I am truly grateful to the many doctors and professors who have made time in their busy schedules to chair the panels, to prepare and give lectures and many of them to travel long distances to do so.
We feel that the Symposium has been a great success, and hope that it has been for you too. We look forward to welcoming many more of you to our meeting next year, which will be held in Milan, Italy."